Film Reel Ice Cream Sandwich
THIS POST MAY CONTAIN AFFILIATE LINKS. I MAY EARN FROM QUALIFYING PURCHASES.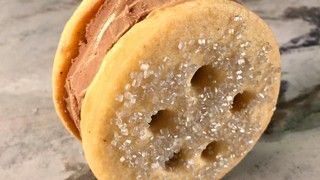 4
Prep Time: 1 hr
Cook Time: 15 mins
Total Time: 1 hr 15 mins
Ingredients:
1 sugar cookie dough
1 pint chocolate ice-cream (softened)
1/2 cup water
1/2 cup granulated sugar
1/4 cup silver sprinkles
Directions:
Preheat the oven to 350ºF. Line two baking sheets with parchment paper.
Roll out the cookie dough to 1/4-inch circle. Using a 3-inch biscuit cutter, cut out cookies rounds and place on cookie sheet. Using the back side of a pastry tip or with a metal straw, poke five holes out of all of the cookies. Bake in preheated oven for 12-14 minutes or until lightly golden. Let cool on tray. Remove to a rack once cool.
Meanwhile, add four 3-inch biscuit cutters to one of the prepared baking sheets, and line the insides with plastic wrap with some overhang.
Add chocolate ice-cream to a piping bag and pipe inside of the prepared biscuit cutters 3/4-inch thick, about 1/2 cup. Freeze until firm, about 30 minutes to 1 hour.
Meanwhile, in a small sauce pan over medium heat, add water and sugar, and simmer until sugar has dissolved. Set aside and let cool. Brush top side of cookies with simple syrup and sprinkle with silver sprinkles to coat. Allow to dry. Flip 4 cookies over exposing the smooth side.
Remove ice cream from freezer and carefully remove one at a time from mold, placing on top of the flipped cookies. Add on top of exposed ice cream another cookie smooth side down and gently press. Repeat with the remaining ice cream to build the rest of the ice-cream sandwiches. Eat right away or return to freezer until ready to eat.